Spring, Texas – Ronnie Matthews, Chairman and Tom Blackwell, President, Great American Title Company announced today that David Crowe has joined the Great American team as Vice President – Senior Title Officer/Commercial Escrow Officer.  "Blackwell indicated he was delighted that David has rejoined the team after he had joined a national underwriter and assisting them to rebuild their examination centers."  Matthews indicated "David is a true asset to Great American his expertise will allow us to continue to provide excellent service to our clients."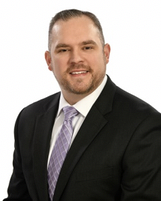 David Crowe serves as a Vice President of Great American Title Company.  His title career began in 2003 after having served as a Marine Corps Officer, and in retail management.  Over the course of his career he has worked for several national underwriters and local agencies, gaining experience in multiple segments of the business including operations, management, examination, quality/auditing, underwriting and escrow.  Previously, he has served as Commercial Title Examiner and Commercial Examination Manager for a national underwriter, as Quality Assurance Officer for Texas Title Operations for the nation's largest group of underwriters and as Vice President, Commercial Escrow Officer and Commercial Title Officer for a national underwriters Commercial Division.  He is highly adept in all aspects of Commercial transactions, including examination, escrow and underwriting.  David earned his B.S. in Economics from the United States Naval Academy in Annapolis, Maryland.
David and his wife, Lyndsay, reside in The Woodlands with their two children.  In his spare time, David enjoys playing golf, attending Astros games and vacationing with his family.