Houston – Great American Title Company helped sponsor this year's 2012 Wreaths Across America held on December 15th at the Houston National Cemetery.  The Wreaths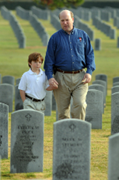 Across America story began over 15 years ago when Worcester Wreath Company (a for-profit commercial business from Harrington, Maine) began a tradition of placing wreaths on the headstones of our Nation's fallen heroes at Arlington National Cemetery.
Over the years, Worcester Wreath has donated over 75,000 wreaths which were placed by volunteers in a wreath laying ceremony each December.
The Houston connection and how Wreaths Across America – Houston came to be:
In 2007, our Director and his son were looking at a video about the Arlington wreath laying and commenting on the event here at the Houston National Cemetery. They placed their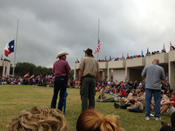 order for wreaths and called the cemetery to see when they could place them. They then found out that the Houston National Cemetery does not receive the live wreaths for all burial sites, due to lack of funding.
The cemetery does receive seven wreaths (each representing one of the branches of service and the MIA/POW's) as all other National Cemeteries do. The ceremony is held to place seven wreaths in the front of the National Cemetery.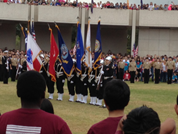 The son, perplexed by this claimed "that's not fair" and later in the day simply stated "let's go get some wreaths." This was the beginning of a goal for not only one boy and his dad, but also family, friends and volunteers.
Now four years later, there is an entire city behind the event.
Houston showed the Nation how we honor our fallen soldiers, by placing a wreath on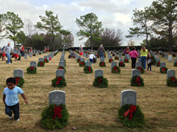 37,000+ grave sites at the Houston National Cemetery.
Great American Title Company is one of the largest title insurance agencies in the Houston metroplex with its corporate offices located in Spring, Texas. Great American Title Company has 10 branch locations and is currently licensed in Harris, Montgomery, Fort Bend, Brazoria and Galveston Counties in Texas